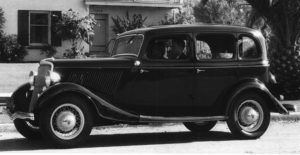 Standard equipment on the Fordor followed that of the Tudor. The Fordor came with an adjustable drivers seat, glove box, two sun visors on the drivers side, a dome light and a choice of three interior trim schemes: Thorn Brown Mohair, Tan Pinstripe Broadcloth and Copra Drab Fine Grain artificial Leather. The cigar lighter and ashtrays were available at extra cost.
The Deluxe contained everything the standard did with some exceptions:cowl lights, dual horns, and dual tail lamps and arm rests on drivers side and rear along with an addition trim scheme Bedford Cord. Some new features unique to the 1934 included a window ventilation system, covered headlining, and the addition of the arm rest on the front passenger side door. In May of 1934 the Copra Drab leather trim was replaced with Taupe leather.
Striping on the Fordor was identical to the Tudor, with two fine pin stripes starting at the front of the hood molding and going around the body with a 3/32″ center stripe.
| | 1934 Price | Production Numbers |
| --- | --- | --- |
| Standard | $585 |  24,978 |
| Deluxe | $625 |  107,956 |